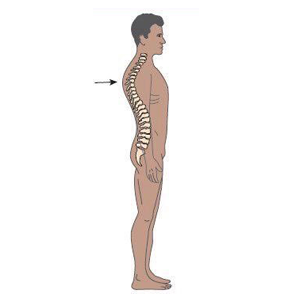 DO YOU HAVE A ROUNDED BACK?
A condition known as
Hyperkyphosis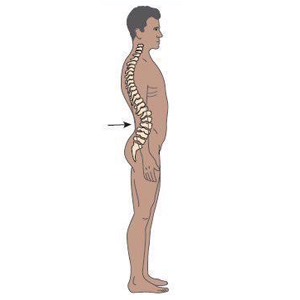 DO YOU HAVE AN ARCHED BACK ?
A condition known as Hyperlordosis/Swayback.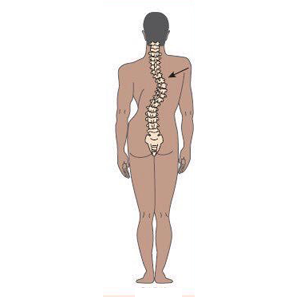 DO YOU HAVE AN S OR C SHAPED BACK?
A condition known as
Scoliosis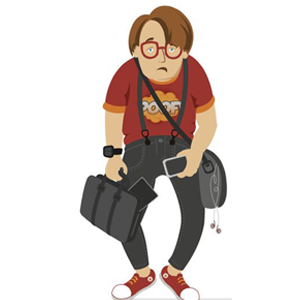 DO YOU HAVE POOR POSTURE?
Each of these conditions is characterized by a curvature of the spine.
In order to determine whether you have
Scoliosis
Hyperkyphosis
Hyperlordosis
you will need to look at the direction and location of the curve – for example, Scoliosis goes sideways, while Hyperkyphosis is a forward curvature of the upper back  and Hyperlordosis is an exaggerated curve in the lower back as shown in the diagram below .
.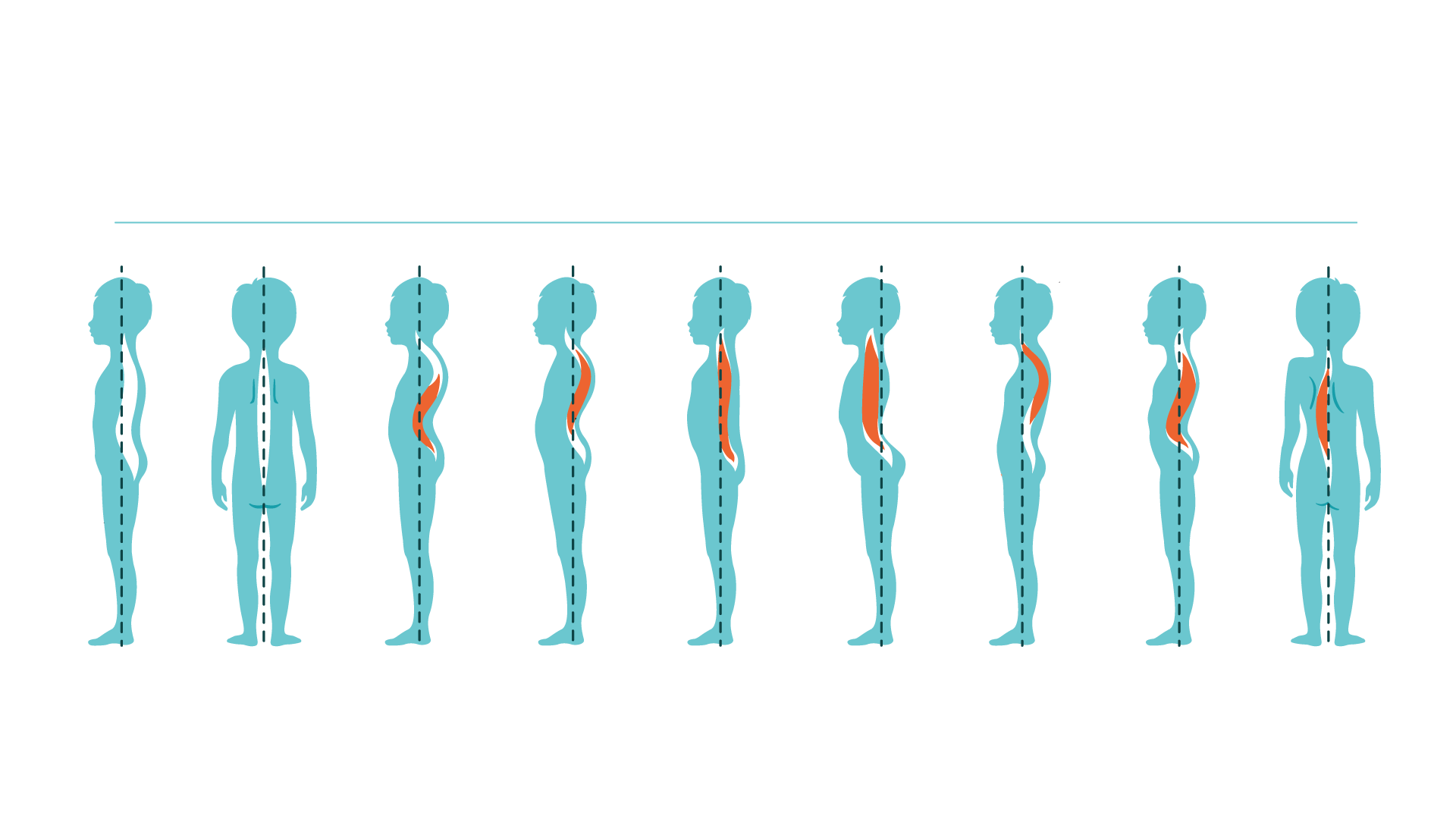 When your back appears  little curved to the sideways , then this condition is called as scoliosis of the spine .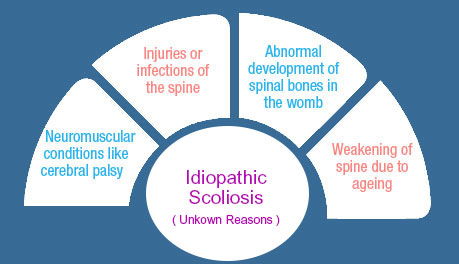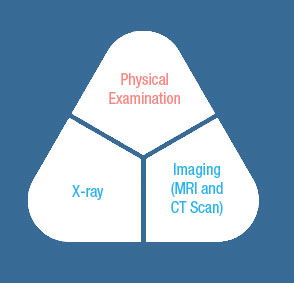 How to Detect It Yourself?
There are two simple tests to check for some Classical Signs that indicate if one has scoliosis and it is very easy to perform.
Incase you see any one or more of these signs, you should consult a Scoliosis clinician for a full assessment.
It is always good to keep checking for these signs during your child's growth period especially from the age of 9 to 16 or sometimes even earlier. The earlier it is detected, the more correctable it can be.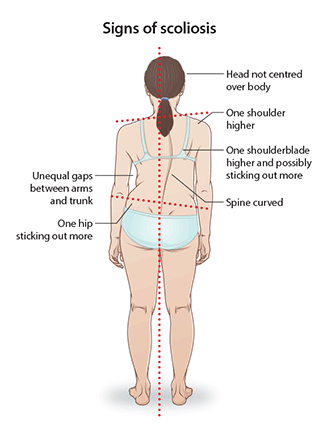 Posture Assessment in Standing
Now check for these signs from back.
1.Shoulder Level –One shoulder higher than the other
2.Shoulder blade –One shoulder blade more noticeable than the other
3.Side to side deviation in spine – a slightly curved C or S spine may be visible.
4.Waist asymmetry –Unevenness of the waist
5.Hips asymmetry – One hip higher than the other
6.Head aligned over pelvis –Head not centred over bottom.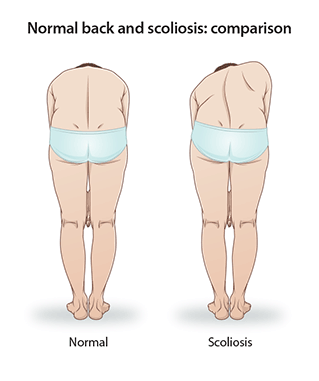 Forward Bending Assessment
Keep the feet parallel and aligned when you check this and do not bend your knees.  Join your hands in front of you and bend down towards the floor. Put your head down.
Upon bending please check for these signs 
Hump in the upper back. 
      

and / or 

 

Hump in the lower back.
The 1 Minute Spine Check For Scoliosis
Do you know the types of Scoliosis ?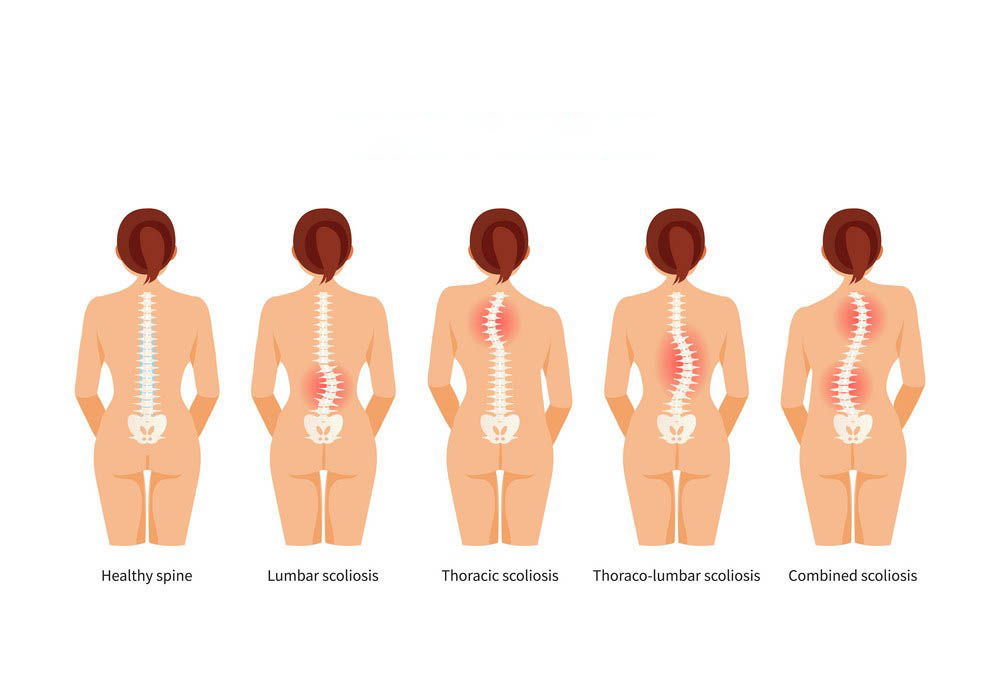 Yes it can be corrected , though there is no single-shot cure or one-shot formula for curing/correcting the same. A methodical process needs to be adhered to correct & manage the condition using conservative treatment methods( meaning without complex surgery ) .
.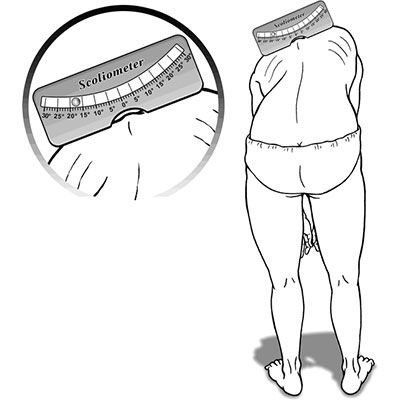 Diagnosis
Physical examination, Posture Analysis, Scoliometer reading and Xray will enable us to effectively assess and diagnose the type and severity of the condition to provide tailor-made treatment to your specific needs, right down to the finest details
Plan
We work with our patients to develop a multi-level approach to treating their case. This can include a mix of scoliosis specific exercises,  soft tissue release techniques, manual therapy and bracing. Over the course of several detailed consultations we get to know how the condition affects the person, how the treatment is proceeding and how best we can help to meet the goals as quickly as possible.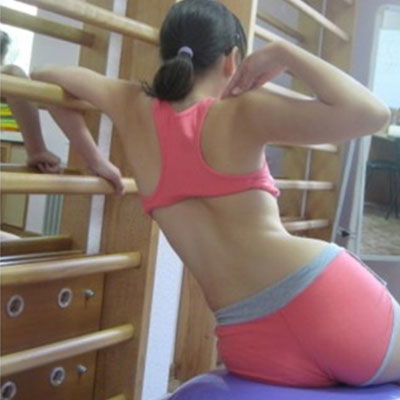 Scoliosis Specific Exercises
In most cases we will prescribe scoliosis specific exercise,  that can be incorporated into your daily life and activities. Exercise alone can often be effective in mild scoliosis, while enhancing the long-term results of bracing and improving body symmetry and reducing pain in adults.
Bracing
In cases where scoliosis is significant and where indicated, we'll recommend a brace. It is a highly effective but comfortable and discreet scoliosis brace which, over time, can do much of the work in improving the scoliosis and minimizing progression. Braces come in a wide variety of colors and patterns! These braces are custom designed by specialist manufacturers for the specific needs. Braces will give the best results only when the person is very compliant with the dosage or wearing time that is recommended.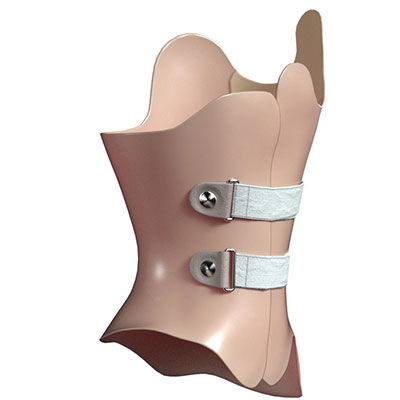 Monitor & Optimize
During the treatment, we stay in touch with the person regularly, either with face to face meetings at our clinic or online via skype or similar, as preferred. By staying on top of any changes we can ensure that the corrective regime is always at its most effective. During our check in sessions, we will evaluate the exercise regime, and address any issues the person might have with the treatment regime.
OnGoing Care
Once the situation is under control and the cobb angle has been stabilized, we will keep working to ensure that the Scoliosis remains stable and does not worsen.
At Physio4You, we are always available to listen to your thoughts and concerns and act accordingly.
Who Can Correct It For Me?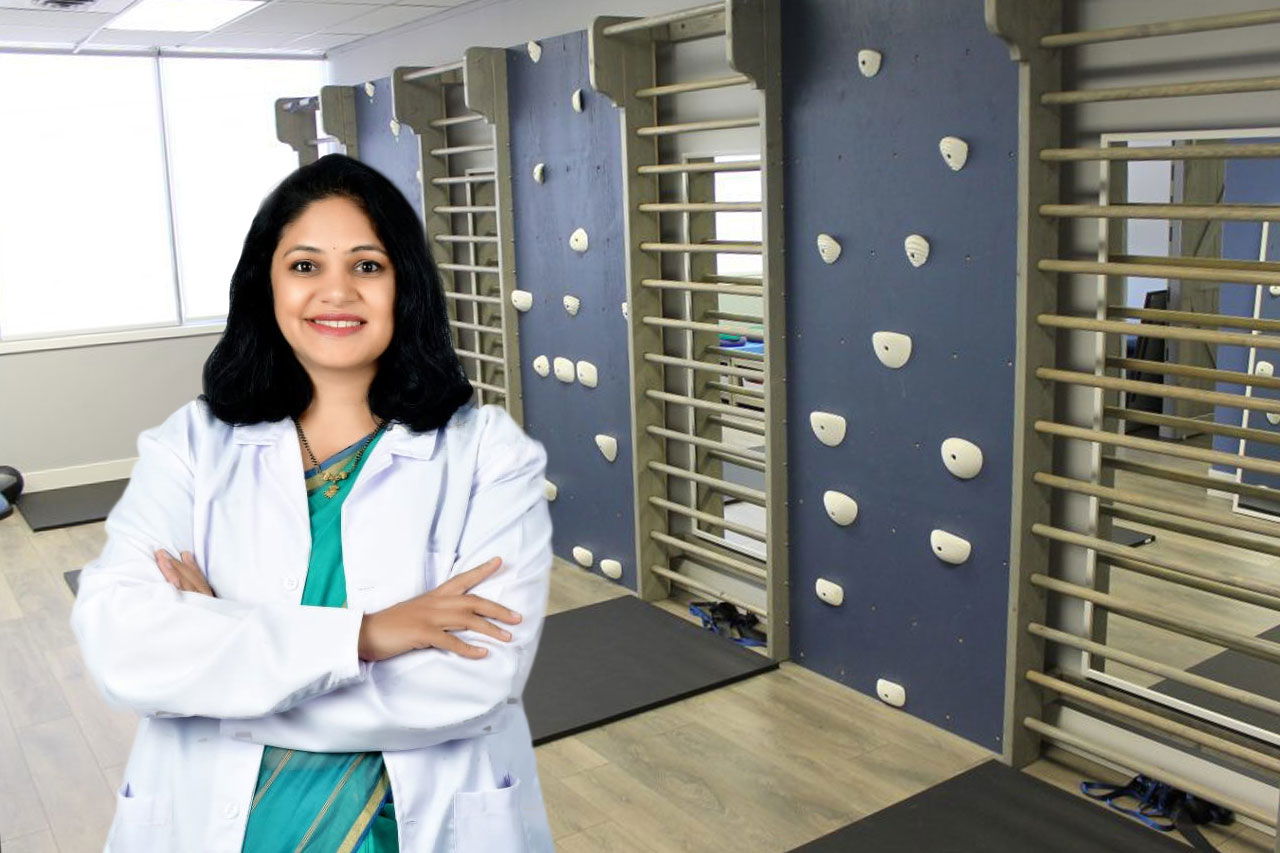 Dr. Mayura Kudva (PT).  B.P.T. , M.I.A.P, C.O.M.T.
Physio4You is a specialist centre focused on treating Spinal Disorders like Scoliosis and Kyphosis through active research and well equipped with a  highly qualified physiotherapist Dr. Mayura Kudva(PT) in the lead. She has a degree in physiotherapy from Fr. Muller college of Physiotherapy, Mangalore.
She has specialised over the years on the spinal deformities (curved back conditions). She is a Certified Schroth Therapist from ISST,Germany.   It is a century old Three – dimensional approach for correction of spinal deformities.
She has done her Master course on Spinal deformities PPSCT, from ISICO, Italy. She is an Accredited Scientific Exercise Approach to Scoliosis (SEAS) Therapist. Also trained in Dobomed method from Poland, Side Shift from UK and Lyon method from France which are also different methods of treating Spinal deformities.
 She is also a certified orthopedic manual therapist (COMT) and is a Certified Dry Needling Therapist (CDNT).
Why Choose Physio4You?
Physio4You is the first and only centre of its kind which is dedicated to nonsurgical management of Scoliosis, Kyphosis and other spinal deformities.
The founder-director of Physio4You, Dr. Mayura Kudva(PT) with 20 years of experience is excellent with  problem identifying and solving skills. She has great amount of patience and sensitivity towards any person that approaches her with their conditions regardless of age. With her empathetic nature and excellent communication skills, she is encouraging and tactful to bring out the best from within you, be it a child or an elderly person.
She believes in  a holistic approach to improve your quality of life (Bio-psycho-social approach), helps you in hunting down the root cause in case of a lifestyle problem, and suggests simple changes that can avoid the problem to recur.
She is constantly updating herself to provide the latest possible treatment.
What Our Patients Say About Us?
My daughter who after 2 surgeries to correct her scoliosis problem could not walk or get out of bed by herself, can now walk on her own, thanks to Dr.Mayura and her skills , my daughter showed immediate improvement within 3 sessions. I consider this clinic to be no lesser than a temple.
Patients Mother
If you are looking for a proven & passionate physio doctor to provide care with the longterm physio health in perspective, then look no further. Dr.Mayura is the right person for the task, I visit her on my India trips and am very satisfied with the approach, care, and commitment to physiotherapy. Great experience, excellent care. Keep up the good work Dr.Mayura.